Sunderland City Council

Community Chest

SIB - Strategic Initiative Budget

C.I.S.W.O

Community Police

Community Foundation

Durham Heritage Coast Partnership

Gentoo

Blue Watch

To all our partners & funding agencies too many to name

Our Management Committee and volunteers for their commitment and support

Our members, without whom the project would not be a success
---
Supported by local councillors and area funding from: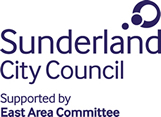 and

The Community Foundation acts as a hub for individuals, families, businesses, and other charities that want to give to communities, by matching their interests with those seeking funding.
It provides help for children and older people, people affected by disadvantage and ill-health and those seeking education and work, as well as providing grants to support the arts, the environment, community activities and amateur sport.
The Newcastle-based charity, the UK's biggest Community Foundation, has built an endowment of over £xx million from donations to the various funds it holds.
For further information please call Iain Riddell, Communications and Engagement Officer on 0191 222 0945, or email ir@communityfoundation.org.uk.