Regular Activities
---
Download current Activites Leaflet here:
---
---
Community Connectors:
Our Community Connectors Meeting will be held on TBA in Ryhope Community Centre - 12:00 until 13:00. All welcome.
---
Health and Fitness - Ryhope Community Centre have a varied program of health & fitness classes suitable for all ages, abilities and fitness levels with an aim to promote Health and Wellbeing via low cost accessible exercise within the community.
Classes/Groups include:
For the very young:
Baby Movers - Tuesday
Little Movers - Tuesday
Exercise & Play for Babies - Thursday
Exercise & Play for Toddlers - Thursday

Toddler Group - Friday

Baby Groups
Here are the links to our Baby & Toddler Group registrations. These links will remain live until Easter 2022. If the group is full there's a waitlist is in operation. Please follow the link to register your interest. Thank you

Thursday:
Exercise & Play for Babies (Birth to Crawling) 9:00am - 10:00am on Thursdays: https://tinyurl.com/3x69437v

Exercise & Play for Toddlers (under 5's) 10:15am - 11:15am Thursdays: https://tinyurl.com/56czsdej
Friday:
Friday Toddler Group (9:15 - 10:45): https://tinyurl.com/nbyvjaa9
If you are unable to attend any session after booking please either email us on ryhopeca@aol.com or ring the centre on 0191 523 9371 so we can release the place for others.
Tuesday:
Baby Movers & Little Movers book here: https://tinyurl.com/4ehy5t8d
Thank you
Arts, Craft and Music Groups:
Art Club
Crafty Corner/Knit and Natter
Guiding:
History:
(2nd Tuesday of the month)
Ryhope Reminiscence Group
General Interest:
Lunch Club
Ryhope Sea Angling Club
We look forward to seeing you.

Don't forget to follow our Facebook page for all the latest news : https://www.facebook.com/RyhopeCommunityCentre
All queries via email to ryhopeca@aol.com
---
Ryhope Heritage Society

If you've got some free time every second Tuesday in the month, then why not come along and join our small friendly group that looks back over the history of Ryhope, Sunderland and the surrounding areas.
We share knowledge and stories of old Ryhope through films, slide shows and speakers all from our local area. There's something here to suit everyone.
Our past films have covered Sunderland in World War I, The History of Seaburn, Ryhope our Mining Village and lots more. We have visiting speakers Phil Curtis and Sharon Vincent talking about old Sunderland with slide shows.
We meet every second Tuesday of the month in Ryhope Community Centre on Black Road at 1:30pm in the Multi-Purpose Room, so come along and join us and enjoy a cup of tea after looking back over your local heritage.

Our next meeting is:
8 February 2022 - Details to follow
New members are very welcome to join us

Occasional Activities
---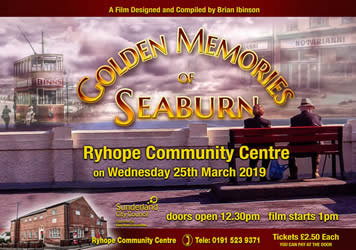 Awaiting new dates
The Golden Memories of Seaburn (film)
by Brian Ibinson
Brian Ibinson's film "Golden Memories of Seaburn" is the story of how a quiet lane changed into a seaside resort and became the pride of the North East.

You'll see how Notrianni's, The Seaburn Hotel, Seaburn Hall and the fair with the bright coloured kiosks all came to Seaburn. The Wearsiders that crowded the beach in shipyard fortnight making the beach look like tent land. Those endless summer days on the boating lake and at the fair in the 1950's and waiting at Notrianni's for hot water to make tea with.

The fair with one of the most daring rides – the big dipper – that dominated the skyline over Seaburn for fifteen years and the illuminations that started in Seaburn in 1949. The forgotten Zoo, the famous fountain, the Pullman Lodge, the Seaburn Centre and ending with Seaburn's famous Air Show attracting over a million people.

So if you remember Seaburn the way it was come along and have an afternoon of pure nostalgia remembering those hot summer days with the family when you went to the best seaside resort in the North East. The film contains clips of film, photographs and all set to music taking you back to a time not that long ago.

"Golden Days of Seaburn" will be shown at Ryhope Community Centre on TBA. Doors open 12:30pm for a 1pm start.

Tickets are £2.50 each, available from Ryhope Community Centre, telephone 0191 523 9371 or you can pay at the door.

Supported by City of Sunderland East Area Committee, local Councillors and area funding.

Other Brian Ibinson film dates for your Diary (all Wednesdays): TBA The Happiest Days of Our Lives – all at Ryhope Community Centre with 12:30pm doors open 1:00pm start.
---
Other film dates for your Diary:
Wednesday TBA
The Happiest Days of Our Lives
(film) by Brian Ibinson
---