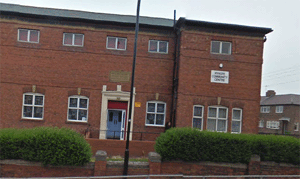 Ryhope Community Association is a well established voluntary organisation and a registered charity.

It was established in 1975 by a group of local residents and to this day continues to be a locally managed organisation that serves the community of Ryhope.

The Miners Welfare Hall had been at the heart of community life providing families from Ryhope with a much needed community facility.

Ryhope Community Association has a longstanding history of providing social and recreational opportunities for local people that dates back to 1926 when the building was the old Miners Welfare Hall. Over the past few years the building has been extensively re-furbished. It now provides the residents of Ryhope with one of the best community facilities in the City. The following facilities are located within the building.

Two large halls. The hall on the ground floor has a seating capacity of 180 and the hall on the first floor has a seating capacity of 200. Both halls have their own kitchen facilities and access to toilet facilities.

Electronic village hall. A fully equipped computer/learning suite that is used to deliver a range of adult learning opportunities. The room provides 16 workstations. Qualifications currently offered include:
Learn Direct qualifications in English, Mathematics, Information Technology, Customer Service [NVQ] and Information Technology [ITQ]
Certificate in Adult Literacy levels 1 and 2
Certificate in Adult Numeric levels 1 and 2
IT qualifications: ECDL, New Clait, Clait Plus
Basic IT Courses
The facility is also open to the general public at designated times of the week (drop-in sessions) providing access to computers and the internet.
Creche room. The sessional crèche facility provides 15 childcare places for pre-school children. Subject to demand and the availability of funding, free crèche places are offered to local residents who have childcare responsibilities and who are undertaking educational activities. Ryhope CA contracts with Shiney Row Childcare Project to provide fully qualified childcare workers to staff the facility.
Multi-purpose room. A room on the ground floor provides facilities for meetings, groupwork activities etc.
Meeting room (first floor) is used for meetings or training activities.
Two small interview/counseling rooms that are used by other agencies i.e. Job Linkage, Health Workers etc for meetings with individuals.
Main office in the reception area.
The Centre hosts over 50 leisure/activity sessions each week in addition to the training/learning opportunities that are scheduled to take place termly. Ryhope CA has provides local people with opportunities to gain qualifications in information technology, and literacy and numeracy.
General Images of the Centre
Entrance into the I.T Suite

I.T Suite

Downstairs Hall

Wellness Point

Upstairs Hall

Upstairs Reception Desk and Main Hall

I.T Suite

I.T Suite

Downstairs Hall

Stair lift

Upstairs Hall and Gym

Upstairs Kitchen

Downstairs Meeting Room
In addition to the above activities the building is regularly used as a meeting place by 12 other VCS groups. Partner organisations also frequently use the facilities within the building to host large events, seminars, fun days etc.
Vision Statement: Ryhope Community Association aims to work with members of the local community to identify need, and using a community development approach, subsequently plans and delivers a broad range of social, leisure and educational opportunities that address the identified needs and promote community cohesion thereby enhancing the quality of life for local residents.
Aims & Objectives
o improve the availability of community based facilities and opportunities for young children and their families by…
Providing a broad range of activities that are appealing to the whole family.
Working in partnership with other agencies to maximise the levels of resources available locally.
Developing operational policies that are inclusive.
To undertake activity and develop opportunities that will strengthen the local economy by...
Creating opportunities for residents to develop new skills or improve existing skills through the provision of accessible training courses.
Working in partnership with other agencies.
Involving local businesses in initiatives to improve the local environment and strengthen the local economy.
Supporting the development of initiatives designed to encourage people back to work.
To raise levels of self confidence and self esteem thereby enabling members of the community to play a more active role in decisions and issues that affect their health, welfare and environment
Consulting with members of the community to identify need.
Encouraging local involvement in planning and decision-making processes
Providing a range of opportunities that are appropriate to the needs of different groups within the community
Removing, where possible any barriers to participation by ensuring the building is fully accessible, providing free childcare, ensuring activities are provided free or at a minimal cost to participants, arranging transport for people who would otherwise be unable to participate.
To provide facilities and support to reduce levels of social isolation experienced by vulnerable groups and individuals (the elderly, the long term unemployed, those who are disabled or have long term illnesses, young parents etc) by…
Ensuring the building is welcoming and well resourced.
Ensuring facilities and services on offer meet the needs of minority groups.
Widely publicising the facilities on offer
Supporting individuals to access the facilities on offer.
To support the sustainability of grassroots community and voluntary groups by….
Co-ordinating a local forum for groups to share ideas and learn from each other
Assisting local groups to access funding opportunities.
Encouraging local groups to make best use of the facilities available within the Community Association.
Advocating on behalf of local voluntary/community groups
By engaging with a broad range of partner agencies in the delivery of the programme to ensure resources are maximised.